Thank you to TLC Book Tours for picking me to be part of this tour!
Twenty-four-year-old Cheyenne Florian has just received her dream job offer. On the strength of a few vlogs, she's recruited to be the new correspondent on the recently hatched Independent News Network, INN. With the slogan "Because independent thinking is the only way out," INN has branded itself as innovative. Yet once Cheyenne joins the INN team, she finds age-old dynamics in play. Some of the female staff resent her meteoric rise, while a number of the men are only too happy to welcome her. Then there's the diary left for her anonymously, written in 1991 by a female broadcaster named Elyse Rohrbach. The mysterious diary is accompanied by a note, urging Cheyenne to learn from the past. She wants to believe it's intended as inspiration and friendly advice, or at most, a warning. But as disturbing—and increasingly dangerous—parallels begin to emerge, she starts to wonder if something more sinister is at work.
I'm going to be honest, at the beginning of the book, Cheyenne wasn't really a likeable character. She had this aura of "I'm more intelligent than everyone else" but I really like the way the author handled it. Cheyenne's off putting personality is explained aptly to the reader and adds depth to the characters. Cheyenne's character development was also spot on and I found myself inevitably rooting for her.
The rest of the characters were also very well written. They seemed to be people you would know in real life. Brown did a great job on making them unreliable and putting doubt into the reader. I really didn't know who to trust and when to trust them. The minor character arcs were also so interesting. They didn't seem like fillers for the story but actually integral to the plot.
Reading the synopsis, I was unsure in the direction the novel was going to go. But I was pleasantly surprised. The plot keeps you engages without drowning you in information. Each conversation and scene is important and still entertaining. The book captures your interest and doesn't let go until the end.
Final Thoughts: Read for a contemporary thriller of the 21st century.
4/5
Goodreads:
About The Author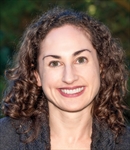 Holly Brown lives with her husband and toddler daughter in the San Francisco Bay Area, where she's a practicing marriage and family therapist. She is the author of the novel Don't Try to Find Me, and her blog, "Bonding Time," is featured on the mental health website PsychCentral.com.
Find out more about Holly on her website, and connect with her on Facebook.